Year 6
What are Year 6 learning about this half term?
Summer 1
This half term our key focus will be Geography, within this topic our inquiry question will be: What makes Fairtrade fair? We will explore the production of food, the journey our food takes before it reaches our plates, explore why some of our food comes from so far away, and also find out what Fairtrade is and why it is so important. Our Design Technology will link very closely to this and we will be researching, creating, and cooking our own menus to taste in class.
In Science our topic will be animals including humans, we will learn about the human circulatory system and how to keep ourselves healthy. We will also be visited by 'Branching Out' a Calderdale support network that will teach our children about the damaging impact drugs, tobacco, and alcohol can have on the body.
Our English text this half term will be 'Pig Heart Boy' by Malorie Blackman. We will write balanced arguments and create writing for impact and effect based on this dilemma text. In our reading, we will be studying a range of texts focused on the heart and the circulatory system. This will cover both fiction and non-fiction writing.
In computing we will be covering the second of our data units, this half term we will learn how to collect and transfer data and think of the way this information could be used to design a smart school.
For PE we will be learning Dance and movement in our Thursday sessions completing complex routines and Orienteering in our Outdoor and Adventurous curriculum on a Friday when we will be familiarising ourselves with a range of maps.
Our Previous Learning this year
Spring 2
This half term our key historical enquiry question has been: Were the ancient Maya similar to other civilisations at this time? We have compared the Ancient Maya with the Anglo Saxons. Learning all about how this society lived and were ruled. We found out about their achievements and compared this with what was happening in other areas of the world at the same time.
Our English work was centred around the mythical planet of Pandora, becoming scientists and creating and writing about our new findings. Our reading was based on texts that were about, or set in, Mexico.
Science saw us looking at classification and how we can classify a range of living things including microorgansims. We also researched the life of Carolus Linnaeus the Swedish naturalist and explorer.
In Art the children learned about artist Diego Rivera who was inspired by Ancient Maya art work, we then studied the technique of dark and light known as chairoscuro to help with our own compositions at the end.
In our computing lessons we used python and logo to create nesting loops, drawing shapes and using repeated instructions to creat geometrical patterns.
In PE we will be learning the skills involved to play netball so we are ready to compete in an inter-schools netball tournament, we will also be practicing our badminton skills in our Friday PE sessions
We also went tree planting with the charity Treesponsibility after we had been told about the importance of the hedgerows in our countryside. We are also looking forward to our class trip to Cadburyworld early next term which is linked to our History learning.
Spring 1
This half term our key Geographical enquiry was: From giant cities to remote communities—what is it like to live in South America? We used geographical skills to investigate different areas in Brazil and looked at the distribution of wealth and natural resources. In English we read "The Explorer" by Katherine Rundell as our key text, the children wrote survival guides, setting descriptions, and a short narrative. Our reading this half term was based around Switched Fairytales.
In Design and Technology the children were given a design brief, to create a navigation tool, which they had to follow closely before presenting their finished designs in a Dragon's Den style competition. Music was based on film soundtracks, within this unit, they thought about how music makes us feel and why certain styles might be used for particular scenes.
Our French learning will see Year 6 being able to talk about and describe a range of houses and the rooms within their house. To finish this the children wrote a letter describing their family, house, and bedroom.
In computing we completed the first of our 'Big Data' units, investigating barcodes, QR codes, how they contain data and what data being encrypted means before using what we had learned to create our own data transfers.
In PE the class created routines in gymnastics and also took part in HITT on Friday. They have taken part in outdoor learning during Forest School sessions each week.
nter text...
Autumn 2
This half term our key Historical enquiry was: Why was John Fielden significant to Todmorden during the Industrial Revolution? We focused on what the industrial revolution was, how people were treated at this time, who John Fielden was and what he did that made him a significant figure. In English we read 'Street Child' Berlie Doherty and looked at the story of 'A Christmas Carol' Charles Dickens. We have written biographies, reports, character descriptions and a persuasive letter to Mr. Ebenezer Scrooge himself.
In Design Technology we looked at the clothing of the time and designed and made our own waistcoats, stitching by hand and learning how to use a sewing machine. In music the children listened to 'Fingal's Cave' thinking about the pitch, dynamics and texture created by this piece, we also had lots of fun learning and performing traditional Christmas songs.
In Computing the children learnt about those who had worked at Bletchley Park, we had a go at breaking lots of codes and used Scratch to create our very own 'password hacking' software.
French was very topical as we learnt all phrases you might during the world cup, learning vocabulary associated with football and writing and reading player profiles.
In Science we learnt all about Charles Darwin and his theory of Evolution, studying fossils of horses to look at how they as a species have evolved.
Autumn 1
This half term Year 6's key Geographical Enquiry was: How and why has the UK changed over time? We investigated the physical and human Geography that has changed in the United Kingdom, the reasons behind this, and made predictions about the changes which may occur in the future. Our English work focused on 3 main texts - "The Island"- Armin Greder, "Skellig" by David Almond and we will also looked at narrative poetry focusing on "The Raven" by Edgar Allan Poe.
We explored rhythmic patterns in order to build a sense of pulse and used this understanding to create a composition in our music lessons. For art this half term the children explored a selection of paintings through art appreciation activities. Collecting ideas in sketchbooks and planning for a final piece.
In computing the children wrote, recorded and edited radio plays set during WWII, looking back in time at how computers have evolved.
For our PE sessions we learnt about invasion games - netball on a Thursday and tag rugby on a Friday.
Year 6 also worked out in the school polytunnels this half term harvesting last year's crops they helped to plant and preparing the land for future crops.
Meet the staff...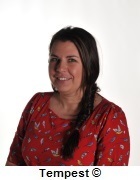 Miss McDaid (Class Teacher)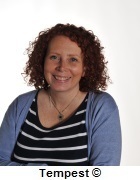 Mrs. Davies (Teaching Assistant)
Mrs A Morrison (Support Assistant)
Ferney Lee Road, Todmorden,
Lancs, OL14 5NR
01706 254848
admin@ferneylee.calderdale.sch.uk